The information below is to provide our customers a quick overview of the Serial ATA technology and its benefits. To learn more about this new emerging technology, please visit the following URL http://www.sata-io.org/satatechnology.asp.
Serial ATA is a new interface technology defined by Intel Corporation and backed by all major PC manufacturers, Hard disk manufacturers, Addonics Technologies and many leading companies in the computer industry. This technology will gradually replace the decade old IDE interface. The first generation of Serial ATA performs at 150 MBytes/sec (1.5 Gbits/sec) was introduced around early 2003. The second generation of Serial ATA that doubles the data throughput to 3 Gbits/sec was introduced in 2nd half of 2004. The performance is expected to double again to 6 Gbits/sec in 2008. Serial ATA also improves the system air flow by utilizing a new thin cabling system to simplify the connection between the host controller and the data storage devices. Below is a highlight of the benefits on Serial ATA technology.
High speed data transfer
150 MBytes/sec (1.5 Gbits/sec) for SATA I and 300 MB/sec (3Gbits/sec) for SATA II. See comparison chart below for the maximum data transfer of various IO interface standards.
Device can be hot swapped without shutting down or restarting the system
Plug and Play under Windows 98SE, Me, 2000 and XP
OS transparent. No driver is needed. Works under DOS and all Windows.
Simple cabling system. Maximum distance between device and the host is 1 meter (3 feet) for internal connection and 2 meters (6 feet) for external eSATA connection.
Built-in RAID support
Low cost.
To help our customers to transition to this new technology and to deploy the Serial ATA technology in various storage applications,, Addonics has developed a full spectrum of of SATA products and accessories that consist of the following component categories:
Host controller
Internal and External PCI host controller for both SATA I and SATA II. CardBus to SATA adapter
Converter board (bridge board)
Convert IDE to SATA, SATA back to IDE or SATA to SCSI
External Serial ATA upgrade kit
Enable many Addonics Storage devices to connect to SATA
SATA hard drive storage enclosure
To use SATA hard drive as removable hard drive or external hard drive connecting to SATA, USB, Firewire or CardBus interface
SATA RAID solution
Add fault tolerance and high performance storage system both internally or externally.
Power supply
External power adapters for external applications.
Connecting cables and brackets
Internal connecting cable of various lengths. External SATA cable with extra shielding and heavy duty connectors for durability in both SATA and the new SATA 2 connector standards. Brackets to enable internal SATA ports become accessible as an external SATA ports.
Addonics is the first to offer a full family of External Serial ATA storage that is simple to operate and has the fastest data throughput. Customers who own an Addonics external storage device with USIB connectors can easily upgrade to the high speed Serial ATA by simply attaching the Addonics SATA USIB interface cable to the back of the device. In addition, the booting support in Serial ATA enables systems to boot from the Addonics external storage devices. Coupling with the built-in RAID 0/1 support on the Addonics Serial ATA PCI controllers, users can add high performance RAID to any Desktop or Servers plus hot swap capability with no additional hardware or software.
While SATA hard drive provides improved performance over the IDE hard drive, there are times that data stored in SATA hard drive need to be accessed by other system with different interface such as USB or Firewire. Addonics offers the necessary interface converters and drive enclosures for attaching the SATA drive to systems that have no SATA interface.
The Serial ATA solution from Addonics can help unleash the performance of the latest fast ATA hard drives that were limited by the old IDE standard. Coupling with the different interface converters, enclosures, trays, mounting brackets and cables, the serial ATA drive can be deployed in practically any computers or application environments that you can ever imagine possible.
Following is a benchmark comparison of the data transfer for IDE vs the Serial ATA on a Western Digital ATA100 120GB hard drive.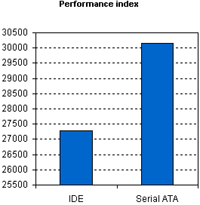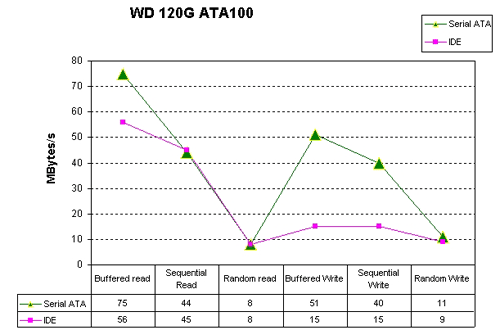 Below is a performance bench mark on configuration 4 SATA hard drive in RAID 0 using the SATA II, the 2nd generation standard, PCI-X host controller. The performance rivals that of SCSI hard drives in similar configuration but at a significant cost saving and cabling simplicity.
Winbench 99 test result comparison between one drive and 4 drives striped over 4 ports
BUS type

PCI-X BUS

PCI BUS

Drive configuration

Single drive

Stripe 4 Drives

Single Drive

Stripe 4 drive

Disk Transfer Rate (MBytes/sec)

58,400

204,000

58,200

123,000
Below is a comparison chart on the maximum data transfer speed on various interface standard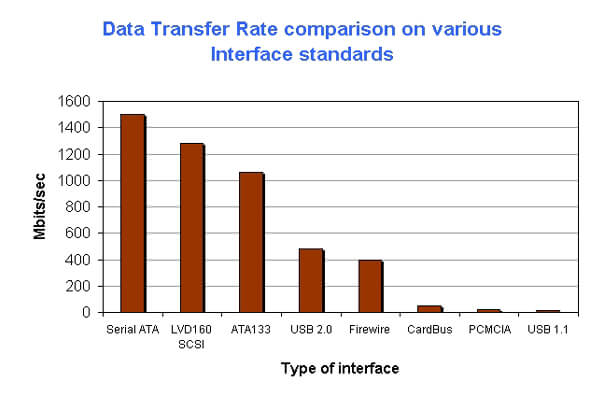 (1) Serial ATA hot swap feature works only with controllers basing on Silicon Image chip set from our inhouse testing. Other controllers that are not Silicon Image based may not support hot swap. You may consider adding one of the Addonics Serial ATA host controllers to your systems to ensure the hot swap capability. New controllers from Intel and other suppliers may finally support this feature. Please verify with your controller manufacturer if you need to have hot swap in your application. Hot swap is supported in Windows 2000 and XP only. On other OS, drive can be removed without crashing system. But replacing with a different drive can result in crashing the OS.
Back